Keep your clients forever!
We call your clients on their birthdays and sing a Happy Birthday song to them including their name and a personalized message from you.
The 4-Star Solution

What is it? A simple to use, automatic, 4-Touch customer care package that calls your customers 4 times throughout the year and puts your name in front of them.
The Happy Birthday Call
Our specialty, The Happy Birthday Call

or The Group Birthday Call

that will have your customers smiling from ear to ear and talking about YOU!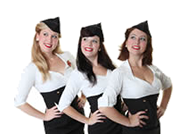 Thank You Calls
A powerful Thank You Call

or the Manhattan Dolls' Thank You

after each visit to let them know how much you appreciate them and will make a lasting connection.
4th of July Call
An extremely useful 4th of July Call

that shows your customers you care about them and want to make sure they are doing well.
Holiday Calls
Call your customers with a festive song a week before Christmas that will have them thinking of you during the holidays.
New Years Eve Call
A New Years Eve

song to start the new year off right!
What does it all mean to you?
Your customers will be so thrilled and happy that you care, which generates a personal relationship that increases loyalty, retention, and referrals creating a foundation for greater growth.